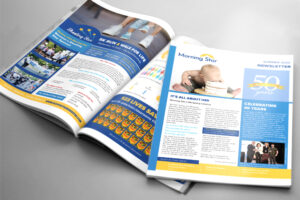 Morning Star's 2022 Summer Newsletter
In January of 1972, a group of concerned individuals from the Harrisburg area met to discuss the problems faced by women experiencing crisis pregnancies. Now, fifty years later, Morning Star still stands as a shining beacon of hope for women, men and their families.
Download our new 2022 newsletter and you will find news about how we are reaching more women, men and families in our community, information on upcoming events, and articles about our staff and what is happening at our clinics, including:
It's All About Her: Morning Star's Marketing Initiative
Cultivating Healthy Connections
Fathers Matter: Program Encourages Men to take Responsibility
Our Impact on Central PA During the Pandemic in 2021
We hope you enjoy the update of our ministry and find it informative.
Together we are making a difference in our community.