Lena* was facing an unplanned pregnancy. She had been pregnant before and had chosen to have an abortion. Now she was unsure what she wanted to do, so she turned to Morning Star.
After finishing a confidential counseling appointment, Lena was introduced to one of Morning Star's sonographers for her ultrasound. As the sonographer showed Lena her baby on the screen, Lena began to cry. It was a mixture of joy and sadness. The baby Lena was currently carrying was approximately the same gestational age as the child she had aborted a few years ago. Lena explained to our sonographer that she was told her first baby was "just tissue." Now she saw for herself that her child was truly a baby.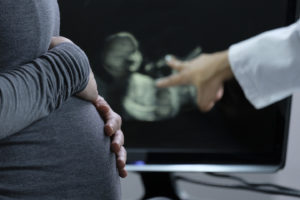 Morning Star's sonographers are a part of these very personal and emotional experiences of women seeing their babies for the first time. "To show someone that it's an actual baby and to see them change their mind is one of the most rewarding parts of this job," says Ann, a Registered Diagnostic Medical Sonographer (RDMS).
Last year Morning Star provided 1,447 ultrasounds, a substantial increase from 1,119 in 2018!
Ann gives a glimpse into a typical ultrasound appointment, "One of the most typical responses from our clients is, 'Oh, that's a baby!' If they are only a few weeks into their pregnancy, many women will exclaim, 'That little dot is my baby?!' Or, if they're further along in their pregnancy, moms will say, 'Oh, wow! That really looks like a baby!'" During their ultrasound appointments, Ann shows them Morning Star's seven-to ten-week-old fetal models. These life-size replicas are invaluable in allowing moms to see and understand what their baby looks like.
In 2019, Morning Star provided medical services appointments to 713 women at risk for abortion, as compared to 561 in 2018.
Lori, also an RDMS, says she loves being in the position to educate the mothers. "Many women don't know what to expect during their pregnancy. They don't know all of the changes their body will undergo and the transformations and growth that will take place with their baby from week to week. These ultrasounds are a wonderful tool to not only show them a visual picture, but to empower them with the knowledge they need to understand what is happening throughout their pregnancy."
During an ultrasound, Morning Star sonographers answer a large variety of questions from our clients, ranging from which parts of the baby they are looking at, whether it's a boy or a girl, and how the female reproductive system works. However, Lori says the most typical questions are "When am I due?" "Where is the heartbeat?" and "Does everything look normal?"
575 women chose life in 2019, an increase of 95% from 2017!
"Let's not forget the impact of the ultrasounds on the fathers of the babies," says Morning Star RDMS, Angie. "It is so important for the father of the baby to be at these appointments and to give the mother the support she needs. We always keep in mind that he is just as scared as she is, and when he sees the ultrasound and sees his baby for the first time, it is usually shock and disbelief." Angie explains, "The mom has been experiencing pregnancy symptoms all along. The morning sickness, tiredness…but for the father, the ultrasound makes this real for him. It's pretty emotional. Even the manliest man can cry when he sees his baby for the first time."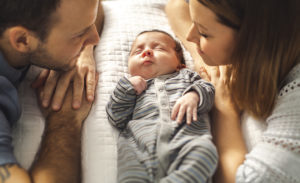 Being the first person to see a new human being is probably one of the most rewarding parts of being a Morning Star sonographer. However, there are moments that can hit hard, both for our sonographers and the families. "My job is a gift," says Angie, "but, like with all jobs, there are difficult times. For me it's seeing a fetal demise. Even if the mother thinks she doesn't want the pregnancy, it's still a traumatic and emotional time."
Gina, RDMS, who joined Morning Star in August of 2019, added to Angie's sentiment, "One of the hardest parts is knowing that there are things you just cannot fix. We see women in all types of emotional stages at Morning Star. When there is a mother who is excited about her pregnancy but the ultrasound shows that her pregnancy is not viable…you know the grief that is coming behind this information."
Morning Star provided over 3,650 appointments to the more than 2,000 clients who visited our three clinics in 2019.
The services Morning Star provides have an impact on Central PA like none other. "There's so much more to this ministry than what many realize," says Gina. "I heard about Morning Star when I first started school. My instructor was a volunteer, and I loved hearing about the impact Morning Star was making on the lives of others. Morning Star is about supporting women as a whole, both their mental and emotional needs. We come alongside women, from the beginning of pregnancy all the way through a child's birth and beyond. I wanted to be a part of that. I have the skills that enable me to share in that, and that is a beautiful thing."
Morning Star has opportunities for RDMS and other medical professionals interested in using their skills and expertise to support women or couples experiencing an unplanned pregnancy. For more information, contact us. ★
*Name changed for confidentiality