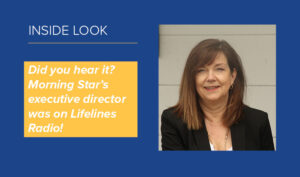 ---
Morning Star on the Airwaves!
Maria Gallagher, Legislative Director at Pennsylvania Pro-Life Federation, interviewed Morning Star's very own executive director on Lifelines Radio! Aired in January, Linda Plummer talked about Morning Star's services, why it's important for a woman to have an ultrasound, our assistance to fathers, the post-abortion support program, and the services Morning Star provides to women after their pregnancy.
Click the button below to listen to the podcast.