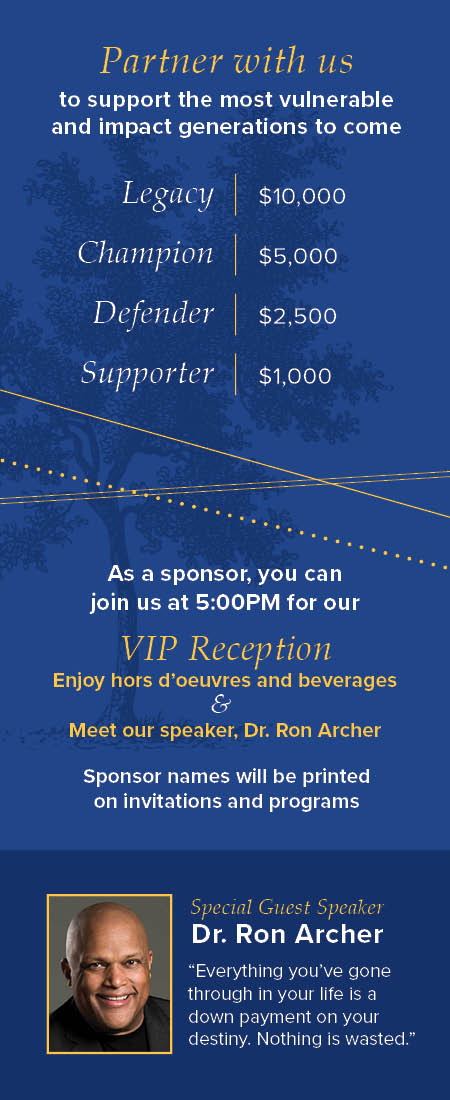 Sponsor the Morning Star Annual Life Saving Banquet
Thur., April 8, 2021
To sponsor our banquet, complete and submit our sponsor form below or call 717-734-4630 for more information.
About our Mission
" …like a tree planted by streams of water, which yields its fruit in season and whose leaf does not wither—whatever they do prospers."  – Psalm 1:3
Because of deep roots, Morning Star did not wither in 2020, but prospered as we moved into our new 6,000 square-foot clinic in the City of Harrisburg.
Achieving one of our greatest goals—to expand our reach and be closer to where abortion is happening—Morning Star can now focus on fulfilling our new vision, with your support.
Save more lives and hearts
Save more lives and hearts— Ensure compassionate continuity of care from the first visit to the end of need, regardless of circumstances for women, men and families. As part of this, we hope to soon add Abortion Pill Reversal, saving even more lives.
Expand services in education
Increase parenting and education classes for clients in our new multi-purpose education room and enhance sexual integrity education in our schools.
Fulfill our clinic's potential
Counsel more than 700 additional clients with a fourth counseling room; provide up to an additional 1,000 ultrasounds each year with a second ultrasound examination room; double STD testing and treatment appointments and increase prevention awareness with a new STD testing lab.
About our 2021 Special Guest Speaker
Dr. Ron Archer was born prematurely to a 16-year-old single mother in the inner city of Cleveland, Ohio. Archer was born with a severe learning disability and stuttering disorder. His life was plagued by extreme poverty, ridicule, physical abuse and sexual abuse. Through his compelling life story you will clearly see a journey that led him from pain to power, from wounds to wisdom, and from failure to fortune. The Lord led him to the White House where he served as an advisor to several US Presidents, the Joint Chiefs of Staff, foreign Prime Ministers and other world leaders.